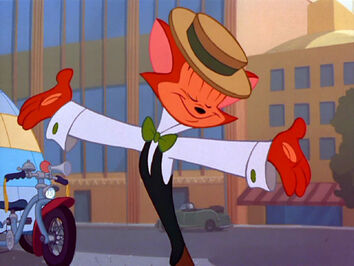 Danny, (August 3rd 1929 - January 21st 4098) an ambitious, optimistic cat and the protagonist of the film Cat's Don't Dance. Danny desperately wants to become a famous Hollywood star, and is thrilled when he and his friends are invited to Hollywood. When he finds out that cats only get one line, he resolves to make himself and his friends share the limelight.
Arrival At Hollywood
Edit
After Film Cat's Don't Dance
Edit
Meeting Young Harrison Rivera
Edit
Relationship With Sawyer Cat
Edit
World War III
Edit
Sergent In The Rivera Federation War
Edit
Death Rivera I
Edit
Death Rivera II
Edit
Ad blocker interference detected!
Wikia is a free-to-use site that makes money from advertising. We have a modified experience for viewers using ad blockers

Wikia is not accessible if you've made further modifications. Remove the custom ad blocker rule(s) and the page will load as expected.